IN SEASON: Eat Well Stay Well
The Nelson Market has been blessed with several long term growers offering fresh, locally grown produce to Nelsonians and visitors for decades.
This month we are celebrating our vegetates growers at The Nelson Market  and acknowledge their contribution in helping us stock our pantry each week with healthy produce.
The Cullen Family
Many will recognize the Cullen family who set up their vegetable stall each Saturday.   Located on the first row near the Hardy Street entrance  in front of  Yaza Cafe, they have been selling locally grown produce to Nelsonians for over 30 years .
This popular business is run by Brendan Cullen, assisted by his daughter and staff.
Stephen Morris
Since 2002 Stephen Morris has been suppling Nelson Market customers with farm fresh produce with the lowest gate-to-plate food miles you'll find anywhere.
Chances are you will have visited his stall near the Rutherford Street entrance.  Heatherdale Orchards or Brightwater Country Fresh, as they are known in the market,  became  a fixture on the horticulture scene after 1959 when the Morris family first moved to Redwoods Valley from the UK.  Over the years the Morris family has experimented with new varieties and technologies to refine their produce and improve yields and efficiency.
The results can be seen each week at their stall with the vast majority of goods, locally grown on their 20 acre block. This includes specialty tomatoes, hydroponically-grown strawberries,  berry fruits, herbs, chillis, eggplants, zucchini, melons and tomatillos outdoors.
"We have specialised in particular glasshouse tomatoes like cherry tomatoes, red, yellow and black as well as Isle of Capri."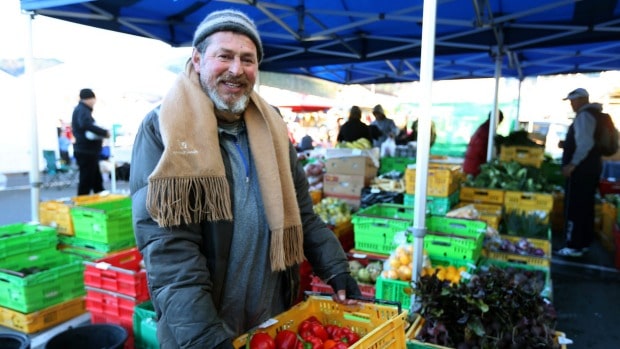 Stephen Morris – Nelson Mail 19.07.16
Pasquale and Vincent   – Stall Verdura
Verdura means vegetable in Italian and is the namesake stall of Pasquale Garguilo and Vincent Musso.
The stall itself pre-dated the two and was initially established 30 years ago by Gavin Williams,  a well known grower based in Hope.
Pasquale and Vincent both coincidentally immigrated to New Zealand  from Sorrento,  Italy on the beautiful Amalfi Coast,  in the 1970's.
Pasquale is quick to explain that he came for love.   He had met his soon-to-be wife Brigida and they had set their sights on Nelson.
The friends soon met up as circumstances dictated they ended up living near to each other on Grove Street.   Both established their own glasshouse and filled it with varieties of Italian tomatoes.
Pasquale took over Gavin Williams stall 15 years ago, and then 6 years ago took on Vincent as his partner.
Ask the two why they return every week rain or shine, and they will each will tell you they enjoy the European tradition of markets which are about socialising and meeting people.
Their produce comes mainly from Hope and right now you'll find a great selection of winter vegetables and vitamin C laden, mandarin, kiwi fruit and oranges.
Other Growers of Note
The Nelson Market also features organic growers including the stall 'Grown In Hope', owned by Brent Ferretti and Kevin Lubbersen. The Hari Krishna organic stall is a regular fixture as well.